MoonGlo Light Tower Packages
MoonGlo Balloon Work Lights
The MoonGlo Balloon Light Tower is the answer for ensuring safely-lit environments. The Light Tower trailer is a dedicated platform for easily mounting and storing all MoonGlo lighting system essentials. Please call if you have any questions. (503) 931-3650
---
Links to Conversion Info
MoonGlo Balloon Light Tower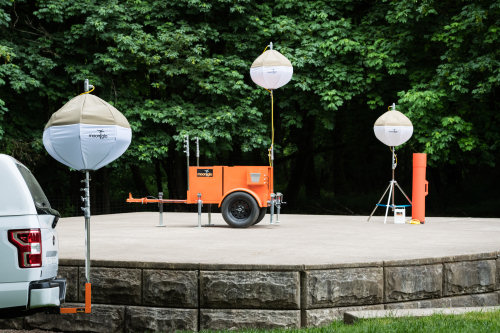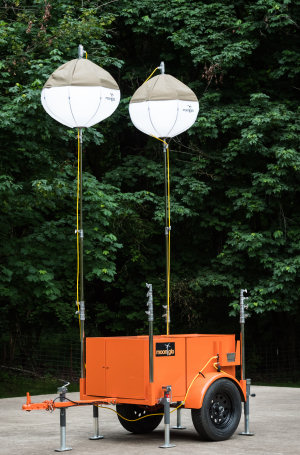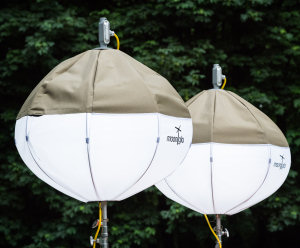 LED Driver Bracket
Features of the MoonGlo Light Tower includes:

Light Tower includes 2 LED or Metal Halide balloon lights
2" ball hitch welded to convenient detachable tongue
Recessed LED stop/turn/tail lights
7-pole RV connector (trailer end only) for stop/turn/tail lights
15" tires with ST227/101-97L 6PR load range
4 high wind stabilizing and leveling jacks, 1 tongue jack — all 5 are side-winders
Trailer frame and cabinets powder coated safety orange
4 light pole mounts welded to trailer frame — one on each corner
TAB 1 CONTENT
STANDARD LIGHT TOWER PACKAGE
Balloon Lights (2) See PDF datasheet for light options
4-stage Telescoping Poles (2) - 48" (4') collapsed, 158" (13'2") extended, chromed steel (Maximum height is 16' to center on the trailer)
Light Tower Trailer - See Trailer Specs/Info page for details
Common uses include flagger stations, temporary job site lighting, new construction, road work, asphalt paving, police checkpoints, first responders, search and rescue, environmental and hazardous material response, homeland defense, etc.
360 Degrees of Glare-Free Light - Illuminates an area of 250 ft+ in diameter.

Set up/Taken down in just a few minutes - Interchangeable with all MoonGlo Balloon Lighting Systems.
If you feel that you need some help, just give us a call. We're happy to help.

(503) 931-3650
TAB 2 CONTENT
Light Tower Trailer:
Dimensions:
108.5" (9') overall length with tongue, 64.5" (5'3") without tongue

Fenders:

52" wide over fenders
Shipping Weight Info:
49" high x 54" wide x 118" deep crate, 1,000 lb approx. weight
Generator Cabinet:
Dimensions, Capacity & Mount:
27" high x 21" wide x 32" deep 2000 watt to 3000 watt generators Roll drawer rated for 500 lbs, locks in and out, hold down provided, acts as fluid containment
Light Cabinet Dimensions & Capacity:
27" high x 12" wide x 57" deep, divided shelf stores 2 lights
2 MoonGlo balloon lights
Storage Cabinet Dimensions & Capacity:
27" high x 21.5" wide x 24" deep
Stabilizing jacks, LED drivers, ballasts, etc. (depending on setup)
Balloon Light Options:
TAB 3 CONTENT
Generator Performance:
(GENERATOR NOT INCLUDED)
2000 watt generator operates 4 MoonGlo 150 watt or 240 watt LED ballon lights

2000 watt generator operates 1 MoonGlo 1000 watt Metal Halide ballon light

3000 watt generator operates 2 MoonGlo 1000 watt Metal Halide ballon lights

View PDF Balloon Light Options Spec Sheet

Generator Cabinet Views:





Top
MENU